About Us
The Gundog Trainers Academy has been established to meet the increasing demand for ethical gundog training in the UK and overseas, by providing a robust qualification and assessment procedure.  

In July 2020, the GTA Teachers Course and its full assessment process was awarded accreditation by the ABTC (Animal Behaviour Training Council) having met the industry agreed criteria for welfare and ethics, teaching and training dogs and people, professional conduct, and underpinning knowledge. As such, we are the only gundog training organisation in the country to be accredited by the ABTC.  

Our courses command a high standard of theoretical and practical training for instructors while also providing a friendly, supportive and safe community for gundog handlers and enthusiasts.  

We offer comprehensive educational courses to:

• Gundog handlers and enthusiasts 
• Dog trainers wishing to teach gundog handlers 
• Existing gundog trainers and professionals wishing to 'crossover' to positive reinforcement training
• Existing R+ gundog trainers looking to gain accreditation with a respected body
We aim to build an extensive network of likeminded, appropriately qualified trainers to fulfil the demand for ethical gundog training for shooting, competition and pleasure. Through our rigorous assessment process, the Gundog Trainers Academy will grant membership to successful candidates who must abide by the Code of Practice.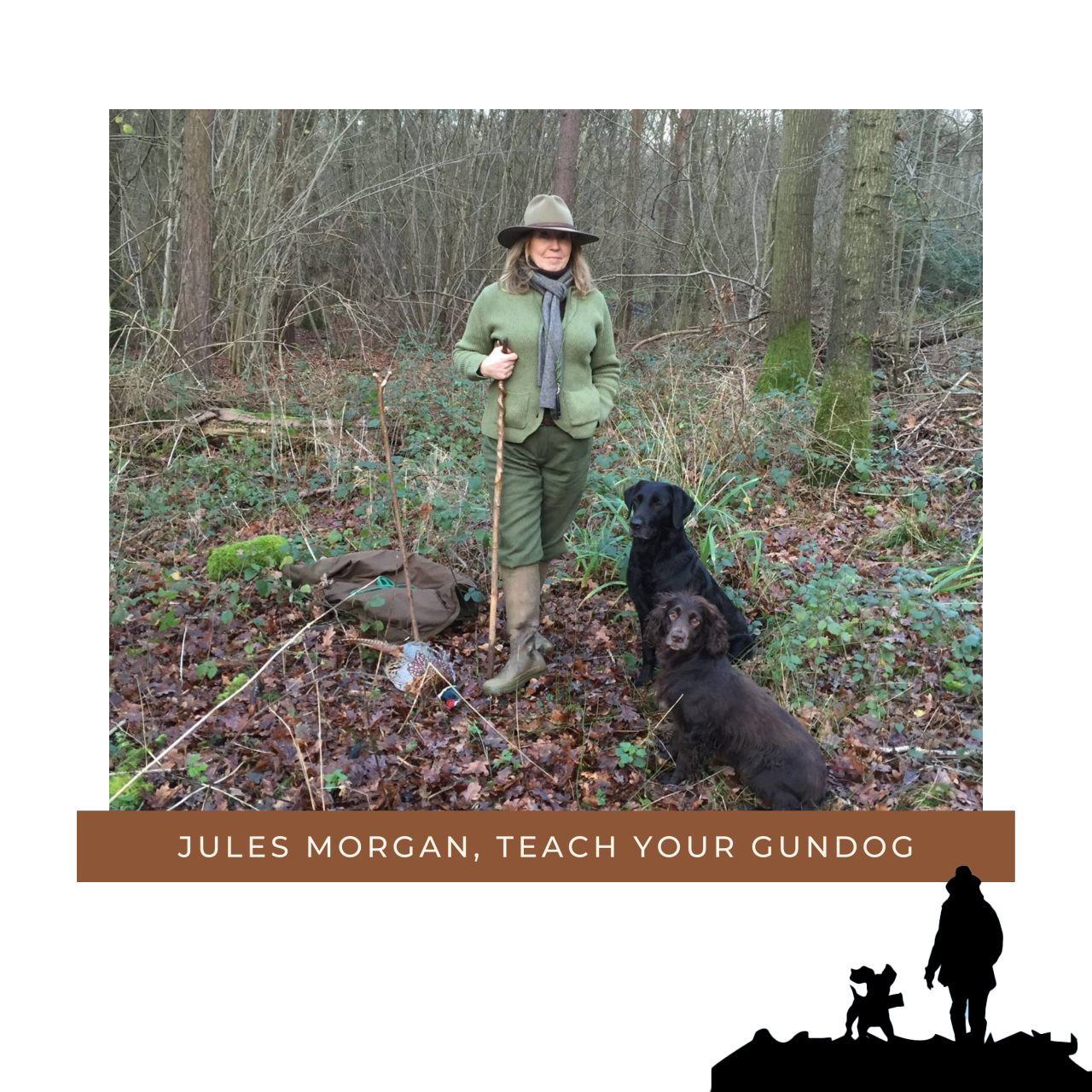 Jules Morgan
Jules has lived with dogs all her life and has been fortunate enough to work as a trainer for over three decades.

During her early training career, Jules taught puppy, adolescent, and behaviour training classes for pet dogs alongside teaching gundog training classes for those looking to work their dogs on shoots.

Within a few years of starting out, Jules started to feel uncomfortable with some of the methods she had originally learnt, particularly as she was unable to explain them on a theoretical level and some seemed unfair on the dogs. So began her journey to learn about more science backed, positive reinforcement training methods.

As dog training education was not the same as it is today, much of her learning was independent and very much based on trial and error. As such, Jules' journey to find new gundog training methods took some time and was not always supported by the people she was training with. Nevertheless, in 2006, Jules became accredited with the APDT.

Jules today still feels very strongly that dogs and owners should be supported and encouraged by their trainer with empathy and understanding as well as being properly qualified.

Understanding that there is always more to learn about dogs, Jules considers two working cocker spaniels, Buckle and Raffle, and Labrador, Otter, three of her greatest teachers. She continues to keep up her studies and remains up to date with research into behaviour, psychology, neuroscience and physiology which further expands her understanding of dogs and what motivates them.

Most recently, Jules had lectured to dog trainers, behaviourists and veterinary professionals on remedial training protocols for specific behaviour problems. She believes that her training history and experience as a 'crossover' trainer enables her to be extremely sympathetic to, and understanding of, the hurdles involved in that process, as well as having first-hand experience of what an incredibly rewarding experience it is to train this way.

Jules' main passion is for working and training gundogs. Over the years she has gained a wealth of experience in all aspects of lowland shooting from large estates, through to small farm shoots, and rough shooting including beating, picking up, shooting, and shoot management.

Today, Jules specialise in gundog training for pet dogs, working dogs and those looking to participate in competition from her base in Surrey. Courses available through Teach Your Gundog include The Gundog Club graded training scheme, as well as bespoke workshops and courses covering specific topics at all levels. She also hosts her ever-popular series of Gundog Games workshops held around the country which enables people to find out about the world of gundog training using only ethical, choice based methods and to start to build their foundation skills. Jules also hosts more advanced Gundog Games camps twice a year in Cumbria.

Currently, Jules is the secretary, and co-founder, of the Vale & West Gundog Club which offers a safe stepping-stone into competition through its annual working tests and working gundog certificate (KCWGC) assessment days. She has also organised, judged and competed at many working tests, assisted at field trials, and helped at numerous Kennel Club Working Gundog Certificate assessments both on dummies and game.

Qualifications and accreditations:
• Member of The Association of Pet Dog Trainers (APDT)
• Accredited Animal Training Instructor with the Animal Behaviour & Training Council (ABTC)
• Accredited Trainer and Assessor for The Gundog Club
• BASC Safe Shot Certificate
• LANTRA Shooting Assistant/Loaders Certificate
• Qualified First Aider (Emergency First Aid at Work/Rural Skills Certificate)
Visit the Teach Your Gundog Website
Helen Phillips
Helen has been shooting and working dogs in the field for over thirty years. Having owned a variety of breeds from crosses, to Spaniels and HPRs, Helen has an extensive understanding of living with and working with hunting dogs.

Currently, Helen owns Vizslas, Jack and Dibble, and English Springer Spaniel, Wren. All the dogs work in a variety of roles on the shoot from beating, picking up to partner on the peg. Helen has also achieved the Kennel Club Working Gundog Certificate on Dummies and on Game, has competed in working tests and participates in grouse counting.

Over the last decade through her training business, Clicker Gundog, Helen has developed a range of workshops and seminars to help teach the essential skills to both the handler and the dog. Her focus is on promoting the use of positive reinforcement training techniques and strategies within gundog training and field sports in general. She is also the author of the popular 'Clicker Gundog' training book.

Helen has a strong ethical stance in respect of this and endeavours to promote this within the shooting field. One of the UK's most qualified gundog trainers, Helen has a Distinction in Canine Training and Behaviour from Warwickshire College and, as a City and Guilds level 5 qualified teacher, taught the same Canine Training and Behaviour course at two levels for nearly a decade. She also obtained the Clicker Trainers Competency Assessment Programme levels 1, 2 and 3 with Distinction.

Helen is a member of the Special Council for the Pet Professional Guild (PPG), is a registered ABTC Animal Training Instructor, and is an Instructor and Assessor for The Gundog Club, an organisation that declared its force free policy in 2018 and runs courses each year for all levels.
Visit the Clicker Gundog Website